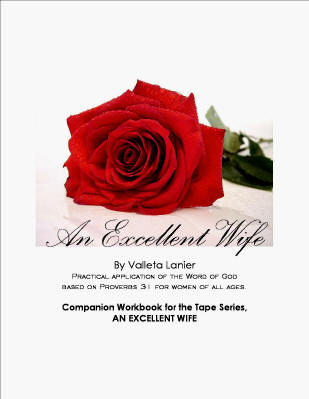 AN EXCELLENT WIFE
By Valleta Lanier
Based on Proverbs 31:10-31 this practical study is for woman of all ages, married or single. Using the acronym W.I.F.E., Valleta Lanier takes you on a discovery of the value God places on an excellent wife! This series works great for Small Group Bible Studies.
Along with the study below, you will find the instrumental music of Gary Lanier, PRAYERFUL WORSHIP.
Valleta has chosen to make these available to you, FREE of charge. To LISTEN left click the DOWNLOAD links. To SAVE right click the DOWNLOAD links and save them to a file of your choice.
Gary & Valleta Lanier are currently sharing their music, books and Bibles studies with over 143 countries around the world, free of charge. Any donation to their ministry,
Grace Place International, would be greatly appreciated.
An Excellent Wife by Valleta Lanier
TABLE OF CONTENTS

INTRODUCTION by Gary Lanier LISTEN (1:31)

OVERVIEW by Valleta Lanier LISTEN (5:52)
Part One • CREATION OF THE WOMAN DOWNLOAD (12:13)
Part Two • PLACE OF THE WOMAN DOWNLOAD (21:40)
Part Three • WORTH OF THE WIFE DOWNLOAD (21:14)
Part Four • INVALUABLE SERVICE OF THE WIFE DOWNLOAD (21:04)
Part Five • FEATURES OF THE WIFE DOWNLOAD (20:30)
Part Six • EVERLASTING REWARDS OF THE WIFE DOWNLOAD (15:38)

AN EXCELLENT WIFE WORKBOOK
Companion for the recorded series. Excellent for small groups. Once downloaded, make as many copies as you need.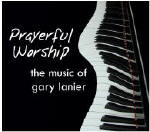 PRAYERFUL WORSHIP (25:09)
Instrumental Music by Gary Lanier
© Copyright 2012 by Valleta Lanier. All rights reserved.