---
A new hymnal premiered Spring 2010
GARY LANIER HOME PAGE THE LANIER COMPANY HOME PAGE
Gary Lanier is privileged to be among a talented group of musicians,
orchestrating and arranging for the Celebrating Grace Hymnal.
The Editors of Celebrating Grace started by recruiting some of the nation's finest
composers and arrangers in church music today. The result has been the development of significant new materials, as well as fresh arrangements of some longtime favorites.
Additional composers and arrangers developing Congregational Anthems for Celebrating Grace are C.L. Bass, Cindy Berry, Todd Billingsley,
Pepper Choplin, Keith Christopher, Michael Cox, Lee Dengler, Patti Drennan, Mark Edwards, Marty Hamby, Lloyd Larson, Ralph Manuel,
Mary McDonald, Anna Laura Page, Stan Pethel, David Schwoebel, Robert Sterling, Sandy Wilkinson and Daniel Zamora.

IMMORTAL, INVISIBLE, GOD ONLY WISE
HYMN ORCHESTRATION
CELEBRATING GRACE HYMNAL :: Compositions by Gary Lanier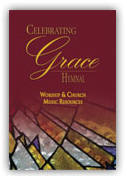 HYMN ORCHESTRATIONS
ABIDE WITH ME
ALL CREATURES OF OUR GOD AND KING
ANCIENT WORDS LISTEN & ORDER
ANGELS FROM THE REALMS OF GLORY
AS THE DEER LISTEN & ORDER
AT THE CROSS
BLESSED QUIETNESS
COME THOU ALMIGHTY KING LISTEN & ORDER
COME THOU FOUNT OF EVERY BLESSING LISTEN & ORDER
COME, YE THANKFUL PEOPLE, COME
GLORIOUS THINGS OF THEE ARE SPOKEN LISTEN & ORDER
GO TELL IT ON THE MOUNTAIN
HARK! THE HERALD ANGELS SING
I GAZE UPON THE WONDROUS CROSS
I LOVE TO TELL THE STORY LISTEN & ORDER
I NEED THEE EVERY HOUR
IMMORTAL, INVISIBLE, GOD ONLY WISE LISTEN & ORDER
LET US TALENTS AND TONGUES EMPLOY
LIFT UP YOUR HEADS
LORD OF ALL HOPEFULNESS
MY FAITH LOOKS UP TO THEE
MY JESUS, I LOVE THEE
O SACRED HEAD, NOW WOUNDED LISTEN & ORDER
ONWARD CHRISTIAN SOLDIERS
REJOICE, YE PURE IN HEART LISTEN & ORDER
STAND UP, STAND UP FOR JESUS
WHAT CHILD IS THIS
WHAT WONDROUS LOVE IS THIS
FESTIVE HYMN ORCHESTRATIONS
AMAZING GRACE
CROWN HIM WITH MANY CROWNS
GREAT IS THY FAITHFULNESS
I LOVE THY KINGDOM LORD
JOY TO THE WORLD
CONGREGATIONAL ANTHEM ARRANGEMENTS
AT THE CROSS / ALAS, AND DID MY SAVIOR BLEED LEARN MORE
COME TO THE WATER
GLORIOUS IS THY NAME, O LORD LISTEN & ORDER
GOD OF OUR FATHERS
HAIL THE DAY THAT SEES HIM RISE
I LOVE TO TELL THE STORY
PRODUCED DEMOS
EXECUTIVE PRODUCER: Mark Edwards
PRODUCER: Gary Lanier
STUDIO: Broadway Recording Studio, Broken Bow, OK
CONGREGATIONAL ANTHEM DEMOS
A MIGHTY FORTRESS IS OUR GOD LISTEN
ALL CREATURES OF OUR GOD AND KING LISTEN
ALL THE WAY MY SAVIOR LEADS ME LISTEN
ALLELUIA! SING TO JESUS LISTEN
AMERICA THE BEAUTIFUL LISTEN
ANCIENT DAYS LISTEN
AND CAN IT BE LISTEN
ASK YOU WHAT GREAT THING I KNOW LISTEN
BE STRONG IN THE LORD LISTEN
BE THOU MY VISION LISTEN
BLESSED QUIETNESS LISTEN
BREAK THOU THE BREAD OF LIFE LISTEN
CHILDREN OF THE HEAVENLY FATHER LISTEN
CHRIST IS THE WORLD'S LIGHT LISTEN
CHRIST, YOU CALL US ALL TO SERVICE LISTEN
CHRISTIAN HEARTS, IN LOVE UNITED LISTEN
COME SHARE THE LORD LISTEN
COME TO THE WATER LISTEN
DOWN AT THE CROSS LISTEN
EASTER PEOPLE, RAISE YOUR VOICES LISTEN
ETERNAL FATHER, STRONG TO SAVE LISTEN
EVERLASTING LOVE LISTEN
GIVE THANKS LISTEN
GLORIFY THY NAME LISTEN
GLORIOUS IS THY NAME, O LORD LISTEN
GOD OF OUR FATHERS LISTEN
GOD TURNED THE SPIRIT LOOSE IN THE WIND LISTEN
GOD WHO MADE US LISTEN
HARK, THE VOICE OF JESUS CALLING LISTEN
HE KEEPS ME SINGING LISTEN
HE LEADETH ME! O BLESSED THOUGHT LISTEN
HERE I AM LORD LISTEN LEARN MORE
HIGHER GROUND LISTEN
HOLY SPIRIT, COME UPON ME LISTEN
HOPE, PEACE, JOY AND LOVE LISTEN
HOW CAN I KEEP FROM SINGING LISTEN
HOW DEEP THE FATHER'S LOVE FOR US LISTEN
HOW FIRM A FOUNDATION LISTEN
HOW LOVELY, GOD, HOW LOVELY LISTEN
I KNOW WHOM I HAVE BELIEVED LISTEN
I LOVE THEE LISTEN
I LOVE YOU LORD LISTEN
I SING THE MIGHTY POWER OF GOD LISTEN
I SING THE MIGHTY POWER OF GOD LISTEN
I WANT TO WALK AS A CHILD OF THE LIGHT LISTEN
IF MY PEOPLE'S HEARTS ARE HUMBLED LISTEN
IF YOU WILL ONLY LET GOD GUIDE YOU LISTEN
IN HEAVENLY LOVE ABIDING LISTEN
IN THE BULB LISTEN
IN THE CROSS OF CHRIST I GLORY LISTEN
IN THE DEEPEST NIGHT LISTEN
IN UNITY WE LIFT OUR SONG LISTEN
JESUS CHRIST IS RISEN TODAY LISTEN
JESUS IS LORD OF ALL LISTEN
JESUS, THOU JOY OF LOVING HEARTS LISTEN
JESUS, WALK BESIDE ME LISTEN
JOYFUL, JOYFUL WE ADORE THEE LISTEN LEARN MORE
LEANING ON THE EVERLASTING ARMS LISTEN
LET ALL MORTAL FLESH KEEP SILENT LISTEN
LET JUSTICE FLOW LIKE STREAMS LISTEN
LET US BREAK BREAD TOGETHER LISTEN
LIFT HIGH THE CROSS LISTEN
LIFT UP YOUR HEADS LISTEN
LIKE A MOTHER WITH HER CHILDREN LISTEN LEARN MORE
LO, HE COMES WITH CLOUDS DESCENDING LISTEN
LOOK YE SAINTS! THE SIGHT IS GLORIOUS LISTEN
LOOK YOU SAINTS THE CLOUD OF WITNESSES LISTEN
LORD, MAKE US SERVANTS OF YOUR PEACE LISTEN
LORD OF ALL HOPEFULNESS LISTEN
LOVE DIVINE ALL LOVES EXCELLING LISTEN
MORE LOVE TO THEE, O CHRIST LISTEN
MORNING HAS BROKEN LISTEN
MY COUNTRY 'TIS OF THEE LISTEN
MY SHEPHERD WILL SUPPLY MY NEED LISTEN
NO, NOT DESPAIRINGLY LISTEN
O CHRIST, THE WAY, THE TRUTH, THE LIFE LISTEN
O FOR A FAITH, A LIVING FAITH LISTEN
O FOR A THOUSAND TONGUES TO SING LISTEN
O SONS AND DAUGHTERS OF THE KING LISTEN
O THE DEEP, DEEP LOVE OF JESUS LISTEN
PEOPLE LOOK EAST LISTEN
PRAISE THE LORD WHO REIGNS ABOVE LISTEN
PRAISE THE ONE WHO BREAKS THE DARKNESS LISTEN
PRAISE TO THE LORD THE ALMIGHTY LISTEN
PRECIOUS LORD, TAKE MY HAND LISTEN
RESCUE THE PERISHING LISTEN
SEE THE CHILDREN HERE BEFORE US LISTEN
SINCE JESUS CAME INTO MY HEART LISTEN
SING PRAISE TO GOD WHO REIGNS ABOVE LISTEN
SING THE GOD OF LOVE CREATING LISTEN
SING WE NOW OF CHRISTMAS LISTEN
SPIRIT OF GOD, DESCEND UPON MY HEART LISTEN
STAR CHILD LISTEN
THE GREAT PHYSICIAN LISTEN
THE KING OF LOVE MY SHEPHERD IS LISTEN
THE KING SHALL COME WHEN MORNING DAWNS LISTEN
THE LOVE OF JESUS CALL US LISTEN
THE SOLID ROCK LISTEN
THERE'S A WIDENESS IN GOD'S MERCY LISTEN
THINE IS THE GLORY LISTEN
THIS IS MY FATHER'S WORLD LISTEN
TOO SPLENDID FOR SPEECH LISTEN
TOO SPLENDID FOR SPEECH LISTEN
WE ARE A PEOPLE OF FAITH LISTEN
WE HAVE COME AT CHRIST'S OWN BIDDING LISTEN
WE HAVE HEARD THE JOYFUL SOUND LISTEN
WE'RE MARCHING TO ZION LISTEN
WHAT WONDROUS LOVE IS THIS LISTEN
WHEN, IN OUR MUSIC, GOD IS GLORIFIED LISTEN
WONDERFUL WORDS OF LIFE LISTEN
WORTHY OF WORSHIP LISTEN
YE SERVANTS OF GOD LISTEN
PIANO & ORGAN DUET DEMOS
EVERLASTING LOVE LISTEN
HERE I AM LORD LISTEN
PEOPLE LOOK EAST LISTEN
SHINE PEOPLE SHINE LISTEN
THERE IS A REDEEMER LISTEN
WE ARE A PEOPLE OF FAITH LISTEN
PIANO & ORGAN HYMN ACCOMPANIMENT DEMOS
PEOPLE LOOK EAST LISTEN
CONGREGATIONAL ANTHEM ORCHESTRATIONS
CHRIST IS THE WORLD'S LIGHT
COME TO THE WATER
CROWN HIM WITH MANY CROWNS
GIVE THANKS
GOD TURNED THE SPIRIT LOOSE IN THE WIND
GUIDE ME, O THOU GREAT JEHOVAH
HARK! THE HERALD ANGELS SING
I LOVE THEE
JOY TO THE WORLD
JESUS LOVER OF MY SOUL
MY FAITH HAS FOUND A RESTING PLACE
NOW THANK WE ALL OUR GOD
O COME ALL YE FAITHFUL
O SING A SONG OF BETHLEHEM
SPEAK O LORD
SPIRIT OF GOD, DESCEND UPON MY HEART
THERE IS A FOUNTAIN
SOLO ARRANGEMENTS
LET OUR GLADNESS BANISH SADNESS
WE WALK BY FAITH
Learn more about Celebrating Grace Hymnal