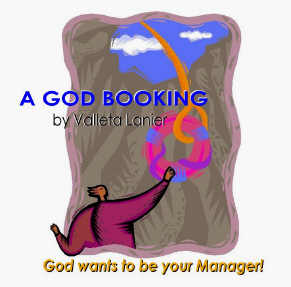 A GOD BOOKING
By Valleta Lanier
TEACHING CD
A GOD BOOKING is not just for people in
Christian ministry... It is for everyone!
The truth is, we are all called to ministry.
And God has a unique plan for each one of
His children.
A GOD BOOKING will help you see God's
plan for your life through His eyes, and how
He has an effective way to accomplish that
plan!
For those seeking to serve through an itinerate Christian
ministry, it is hoped that A GOD BOOKING will encourage you
with the unexpected truth that "God is your Manager", and
"The Holy Spirit is your Booking Agent"!
ORDER COPIES TODAY!
A GOD BOOKING, Teaching CD $12.95 BUY

LISTEN
(audio streaming)
Recorded at the CIA Summit,
Nashville, TN
A GOD BOOKING
By Valleta Lanier
(Outline to follow while listening to the CD)
1. Introduction, KEITH MOHR, President, INDIEHEAVEN
2. GOD IS YOUR MANAGER
3. THE HOLY SPIRIT IS YOUR BOOKING AGENT
4. "GOD BOOKING" ACRONYM
BELIEVE
OPEN DOORS
OPPORTUNITY
KEEP BUILDING
5. "HOW GOD SPEAKS" ACRONYM
WORD
OTHERS
REVELATION
DREAMS
SITUATIONS
© Copyright 2007 by Valleta Lanier. All rights reserved.
---
How God is using A GOD BOOKING...

"Valleta was one of the highlights at our
CIA Summit Conference. Her sharing on
being booked by God was refreshing and right on
the mark! Valleta is a big reason why our event
was talked about for months on our
Indieheaven Network!"

KEITH MOHR, President
indieheaven - artist profile | distribution | consulting | development
the indieheaven network - real social networking for christian indie musicians
indie university - materials and articles for christian indie musicians
PowerPraise Radio -The independent Christian Music Showcase!
---
Valleta,
I feel truly blessed to have been at that conference and especially to hear what you had to say, or rather what God had to say through you. (I'm the new manager who was up front and who spoke with you briefly afterwards). Hearing what you had to say and what Margaret Becker had to say really confirmed in me my purpose in life... to use the gift of administration that God has given me to help others who view their music as a ministry in being able to get God's message out into the world. After the revival I had this weekend at the Summit, I'm doing a lot of praying so God can book my life as he sees fit. In Him, Barbie
---

Hi Valleta!
We wanted to say thank you so much for all that you shared at the Summit! It's so exciting to know that God really will book us where HE wants us and at just the right time too! We purchased your book and it has tons of valuable information as well!
Laurye & Angie | DEMASKUS
www.indieheaven.com/artists/demaskus
<![if !supportLineBreakNewLine]><![endif]>
---
<![if !supportLineBreakNewLine]>
<![endif]>

Hello Valleta,
Just wanted to share with you that I had my first GOD BOOKING last Sunday night. After the event, I spoke to the host and he said, "I've never heard you sing before tonight, but for some reason, you were the only person I could think of to ask!" Isn't that amazing. I explained the God Booking phrase you taught us at Summit and he agreed that was the case! Glory to God!
Kerri Crocker
www.kerricrocker.com
www.indieheaven.com/artists/kerricrocker
---
Dear Valleta,
God bless you for the wonderful heart you have to serve our Lord Jesus Christ! Your sharing was so very inspiring! I must tell you that on my way home from Nashville, the first gentleman who sat next to me on the plane was a pastor and invited my to come sing at his church! I had to make a mad dash to get to my connecting flight, got there just as they started boarding in enough time to squirrel away my guitar under the seats (didn't fit in the overhead and the stewardess just said if I could make it fit somewhere- it was ok with her... this in itself was a miracle) Anyway- the gentleman who sat next to me on that flight (these were 1 hour flights, mind you) hired me to do a consultation at his home (I am a designer by day). My phone has not stopped ringing- and the doors are opening everywhere to play for His glory! Thank you so much for the witness that you are for Christ.
Lisa Winter
---

Hello Mrs. Lanier,
Tim O'Connor sent us a pack of recordings from the CIA Summit. He recommended A GOD BOOKING. He said it was his absolute favorite. After listening, I agree that God had some really important things to say through you. For our group, Undue Favor, it couldn't have come at a better time. My sister, Kelly and I perform together - I play the piano and write songs. Kelly has started to write as well and she sings harmony. God is doing great things through our husbands as well, in regard to being part of our team. This is another reason why your particular story meant so much to us - I had everyone listen to it after I heard it. The guys were inspired about working together as a family. Praise God for the love that poured through your voice and for the affirmations that I received when I heard the truth that you shared. God is our manager!
In His Great Love,
Christy Burnham | UNDUE FAVOR