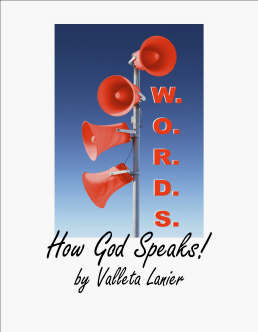 HOW GOD SPEAKS
By Valleta Lanier
Using the acronym W.O.R.D.S,
and her personal ministry testimony,
Valleta Lanier encourages all that God
still speaks today, He is speaking to you,
and you can hear Him!
TABLE OF CONTENTS
Chapter One • INTRODUCTION
An overview of the study.
Chapter Two • A PERSONAL CALL
Valleta shares her personal testimony from her birth as a Believer,
to God's audible call to world ministry.
Chapter Three • HOW GOD SPEAKS
Using the acronym W.O.R.D.S., you will learn the unique ways
that God speaks today.
Chapter Four • ANSWER GOD'S VOICE
This chapter gives you an opportunity to discover how God
has spoken to you through your own GOD CALLING JOURNAL.
Chapter Five • IDENTIFY YOUR CALL
Through three ways, Valleta helps you identify your calling from God.
© Copyright 2008 by Valleta Lanier. All rights reserved.
This book will work great for Small Group Bible Studies.
Discover how God speaks today, how He has spoken to you,
and the exciting call He has for you to be a part of building His Kingdom!
ORDER TODAY!
HOW GOD SPEAKS, Book $2.95ea. BUY
HOW GOD SPEAKS, 10 PAK (Includes 10 books) $24.95 BUY