We are please to announce the addition of
LILLENAS PUBLISHING COMPANY
as a publisher of Gary Lanier music.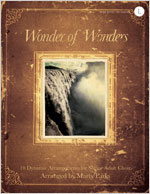 A Senior Adult Collection
including WELCOME TO THIS HOUSE
by Gary Lanier.
Lillenas Publishing Company, the undisputed leader in materials for the Senior Adult Choir, is excited about this latest, general non-seasonal choral collection. Wonder of Wonders contains 10 great arrangements, in a variety of styles, each featuring our Senior Adult Choir distinctives: large print and no repeats!

Gospel songs, cherished hymns, inspirational favorites and even a few praise & worship choices make Wonder of Wonders ideal for choirs presenting individual selections or entire programs. Even smaller choirs of any age will find the difficulty level just right for their situation.

LISTEN
Worship Leaders - Gary Lanier & Leah Lanier Gates
"LIVE" WORSHIP (STREAMING AUDIO)
"LIVE" WORSHIP (FREE MP3)