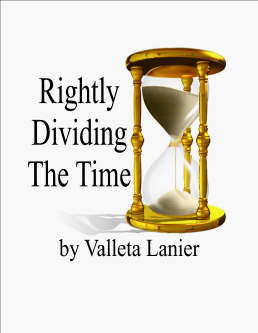 RIGHTLY DIVIDING
THE TIME
By Valleta Lanier
Sometimes there is confusion about
how the different times in the Bible have
an impact on studying God's Word.
Does it matter? This book will help the
reader understand the importance of
Rightly Dividing the different times in
the Bible, from Creation Time to
Eternity Time.
TABLE OF CONTENTS
Chapter One – INTRODUCTION
An overview of the importance of the study.
Chapter Two – CREATION TIME
A unique time when God and man were in complete harmony.
Chapter Three – LAW & OBEDIENCE TIME
Identifying this time using Old Testament books, Valleta looks at the
dangers, if this time is not clearly identified in the mind of the Believer.
Chapter Four – CHRIST TIME
A very unique, and very short time on earth! Learn how easy it is to
misunderstand the use of passages from this time.
Chapter Five – CHURCH TIME
Clearly identify the books of the Bible that were written specifically
for the Church. Plus, a insightful discovery of how the book of Revelation
fits in the Church Time.
Chapter Six – END TIME
Another short time of God's Wrath, and Satan's Wrath on earth.
Learn how God continues to extend His hand of love.
Chapter Seven – MILLENNIUM TIME
There are not many verses for this time, but it is real, and very unique.
Chapter Eight – ETERNITY TIME
Praise God, for Eternity Time! A wonderful way to complete this book!
© Copyright 2008 by Valleta Lanier. All rights reserved.
This book will work great for Small Group Bible Studies.
You will be amazed at how the truth shared in this study
will enhance your Bible study!
ORDER TODAY!
RIGHTLY DIVIDING THE TIME, Book $2.95ea. BUY
RIGHTLY DIVIDING THE TIME, 10 PAK (Includes 10 books) $24.95 BUY