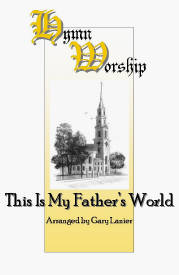 HYMN WORSHIP SERIES
THIS IS MY FATHER'S WORLD
Arranged by Gary Lanier
This classic hymn is beautifully arranged,
bringing it into the 21st century, yet holding to
the classical greatness that has been cherished
for many generations.
Take a few moments to listen to the orchestra
arrangement, with added simulated choir for
help in following the score.

PREVIEW CHORAL MUSIC

LISTEN
Orchestra with simulated choir
STREAMING AUDIO for immediate listen.
FREE MP3 (Click if unable to listen to Streaming Audio)

REVIEW
SHEET MUSIC
---

PURCHASE CHORAL MUSIC
CHORAL eMUSIC PAK for
ONE LOW PRICE!
DOWNLOADABLE Choral Music for any
size choir.
DOWNLOAD IMMEDIATELY, after purchase!
CHORAL eMUSIC PAK Includes:
1. Choral & Piano Accompaniment Score
2. Choral Score
3. Stereo Orchestra Accompaniment Trax
4. Cover Art
5. Unlimited Copy License
ONE LOW PRICE OF $34.95!
TO DOWNLOAD
AFTER PURCHASE...
Click the "RETURN TO THE LANIER COMPANY" link
on the final PayPal transaction page.