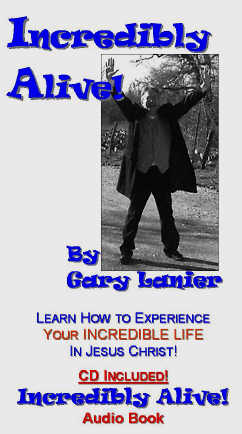 Incredibly Alive
by Gary Lanier
God has made you "Incredibly Alive"
in Jesus Christ!
Now, through this fun book,
you can learn how to "experience" your
Incredible Life in Jesus Christ!
Using the acronym A-L-I-V-E, Gary Lanier shares his thoughts
on how to experience the abundant life, while here on earth!
A - Adapt and Adjust
L - Love Motivated
I - Invest in God's Kingdom
V - Vine Focused
E - Ever-New

Gary says...
Jesus came to give us eternal life (John 3:16) and abundant life (John 10:10). Most Christians get the eternal part, but I believe only a few latch on to the abundant part.
The thief does not come except to steal, and to kill, and to destroy. I have come that they may have life, and that they may have it more abundantly. (John 10:10).
In this one verse we see the intent of Satan and that of the Lord Jesus Christ.
One stands for everything that is bad, the other for everything that is good.
The Devil hates God, and our Heavenly Father has made no place for Him in His Kingdom. God has prepared a place,
we know as Hell for him and his fallen angels. But until that time comes, Satan will try to kill, steal and destroy
what belongs to God.
If you have been saved (Romans 10:9), you are a child of God. That means you have eternal life. Satan hates that!
Eternal death no longer has a place in your life. But what he will do is try to mess up everything in your life,
while you are on planet earth. He does not want you to notice the last part of John 10:10, the part that says,
"more abundantly." Do you realize that more of a good thing is wonderful, but more abundantly is even better?
Jesus has provided a way for us to live a MORE ABUNDANT LIFE in this life time! That's incredible!
We can be alive in Christ, or we can be INCREDIBLY ALIVE in Christ!
That's what this book is about. Read it, enjoy it, and apply it to your life.
God wants His children to experience being INCREDIBLY ALIVE!
INCREDIBLY ALIVE, Book & Audio CD
$14.95 BUY NOW!